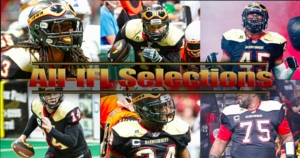 Six Barnstormers Earn All-Indoor Football League Honors
Barnstormers Named First and Second Team Selections
DES MOINES – Concluding the 2017 Indoor Football League regular season, a record six Iowa Barnstormers players have been selected to All-IFL teams, the league announced today. Linebacker Javicz Jones, defensive lineman Ra'Shawde Myers, and wide receiver Brady Roland earned First Team selection, while defensive back Jamie Bender, offensive lineman D'Angelo McCray, and quarterback Travis Partridge were named to the second team.
After going 4-12 in the 2016 season, the Iowa Barnstormers were the surprise team in 2017 as they rattled off 11 consecutive victories and finished the regular season 13-3. They are one of three teams to have six All-IFL selections.
Javicz Jones (6'1, 230, Mary Hardin Baylor) earns First Team Selection for the Iowa Barnstormers after an impressive season, leading the league in tackles with a total 148. Jones also collected two touchdowns and three interceptions during the 2017 season. Previously, Jones received All-IFL First Team honors in 2015. Ra'Shawde Myers (6'4, 255, Marshall University) earns First Team Selection for the first time in his IFL career. Myers finished the 2017 season second in the league for sacks, with a total of 11. Brady Roland (6'1, 185, Grand View University) earns First Team Selection for the second consecutive season, having also earned Second Team honors in 2015. Roland finished the 2017 season tied for the league lead with 22 total touchdown receptions.
Jamie Bender (5'11, 205, Alabama at Birmingham) earns Second Team Selection after finishing the season with five interceptions, one touchdown, one fumble recovery, and 67.5 total tackles. D'Angelo McCray (6'5, 335, Memphis) earns Second Team Selection after contributing to a powerful offensive line. Travis Partridge (6'4, 245, Missouri Western) has also earned Second Team honors after a dominating season, passing for 47 touchdowns and collecting 24 rushing touchdowns.
FULL LIST OF FIRST AND SECOND TEAM ALL-IFL PLAYERS BELOW
First Team All-IFL Offense
Quarterback: Charles McCullum (Wichita Falls)
Running Back: Darrell Monroe (Arizona)
Wide Receiver: Jordan Jolly (Wichita Falls)
Wide Receiver: Brady Roland (Iowa)
Wide Receiver: Damond Powell (Cedar Rapids)
Offensive Line: Darius Savage (Nebraska)
Center: Rashaud Mungro (Sioux Falls)
Offensive Line: Lamar Mady (Arizona)
First Team All-IFL Defense
Defensive Line: John Griggs (Spokane)
Defensive Line: Ra'Shawde Myers (Iowa)
Defensive Line: Chris McAllister (Arizona)
Linebacker: Javicz Jones (Iowa)
Defensive Back: Trey Wafford (Nebraska)
Defensive Back: Allen Chapman (Arizona)
Defensive Back: Rashard Smith (Sioux Falls)
Defensive Back: James Calhoun (Salt Lake)
First Team All-IFL Special Teams
Kicker: Rockne Belmonte (Wichita Falls)
Kick Returner: Tyler Williams (Wichita Falls)
Second Team All-IFL Offense
Quarterback: Travis Partridge (Iowa)
Running Back: Tyler Williams (Wichita Falls)
Wide Receiver: Kyle Kaiser (Colorado)
Wide Receiver: Devin Mahina (Salt Lake)
Wide Receiver: Marquel Willis (Green Bay)
Offensive Line: Kyle Bryant (Sioux Falls)
Center: Damian Love (Arizona)
Offensive Line: D'Angelo McCray (Iowa)
Second Team All-IFL Defense
Defensive Line: Eze Obiora (Nebraska)
Defensive Line: Claude Davis (Sioux Falls)
Defensive Line: Walter Thomas (Wichita Falls)
Linebacker: Tyler Knight (Sioux Falls)
Defensive Back: Jamie Bender (Iowa)
Defensive Back: Matt Hermanson (Sioux Falls)
Defensive Back: John Hardy-Tuliau (Spokane)
Defensive Back: Manny Asprilla (Green Bay)
Second Team All-IFL
Special Teams Kicker: Sawyer Petre (Arizona)
Kick Returner: Daniel Lindsey (Colorado)
###