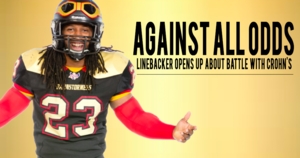 Against All Odds: Javicz Jones' Fight Against Crohn's
Barnstormers Linebacker Opens Up About Battle with Crohn's Disease
In 2008, Javicz Jones was diagnosed with Crohn's Disease at the age of 18. At the time, Jones was just beginning his collegiate football career at the University of Mary Hardin-Baylor.
"I was on a campus visit the first time I got really sick," said Jones. "By the time I got back home, I was taken to the emergency room when my mom realized it was more than just a stomach bug."
Crohn's disease, by definition, is a chronic inflammatory bowel disease characterized by inflammation of the digestive or gastrointestinal tract. The inflammation can cause abdominal pains and other symptoms that vary from mild to severe affecting an individual's daily life.
As an athlete, the news of Jones' diagnosis stung as it posed question of whether his plans to pursue professional football would be possible. Through research and proper medication, Jones learned how to balance his disease with his athletic lifestyle.
"I questioned whether I'd be able to play in college because I had to sit out of training camp and two or three games of my freshman year after having stomach surgery."
Jones finished his four year career at the University of Mary Hardin Baylor, where he amassed a record 467 total tackles, 47 tackles for loss, 13 sacks, and eleven interceptions. In addition to setting single season and career records, Jones earned several honors including a three time Division III All-American, two time American Southwest Defensive Player of the Year, and National Defensive Player of the Year by D3football.com.
After college, Jones continued to pursue football accepting an invitation to the Houston Texans Rookie Minicamp in 2013 before signing with the Texas Revolution of the Indoor Football League (IFL) in 2014.
"I definitely want to prove that no matter what is going on in life, if you keep a positive attitude and a smile on your face anything is possible." Jones has had a successful career in the IFL. In 2015, he made his debut with the Iowa Barnstormers seeing action in all 14 games and finishing at the top of several defensive categories. Jones hasn't stopped, now serving as a Captain on the 2017 Barnstormers team who are off to the best start the franchise has seen since 1996. Jones has also already earned league honors, being named Defensive Player of the Week twice this season.
Jones has now set out to inspire others living with Crohn's disease, specifically young athletes. "I can't pinpoint exactly what works for someone because everyone's journey is different, but I can give advice to people," said Jones. "I've done a lot of research on how to stay active and for me staying active, watching what I eat, and being consistent with both of those things has helped prevent flare ups."
The Iowa Barnstormers have partnered with the Crohn's and Colitis Foundation to host a fundraiser at their game this Saturday, May 13. Tickets to the game are available for just $10 with a portion of proceeds benefitting the foundation to assist with research efforts to create better therapies and find cures.
"This is a special night for me, I'm proud to represent for others dealing with this disease because I go through the same thing every day," said Jones. "I encourage anyone to trust their gut and if something doesn't feel right, tell someone so you can catch it before it sneaks up on you like it did me."
Tickets for A Night Out with Crohn's and Colitis Foundation are available now by calling the Barnstormers at 515-564-8457 or visiting http://barnstormers.isportstix.com/order/group/CCFA.
###