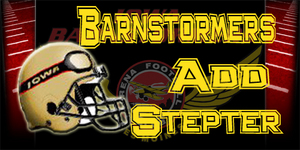 DES MOINES – Iowa Barnstormers Head Coach and Director of Football Operations John Gregory announced this morning that the Arena Football league franchise has reached agreement with LaVar Stepter, A defensive back from Harper College. The 2011 season will be his fifth playing Arena Football.
Stepter (5-11, 200) began his Arena Football Career with the Quad City Steamwheelers (af2), where he spent three seasons from 2006-08. During that time, he was a key contributor to the team's defense, recording 96 tackles, 8 pass break-ups, 4 forced fumbles and an interception. In 2009, Stepter signed with the Milwaukee Iron (af2) as a free agent. During the 2009 season, Stepter was awarded the af2 Defensive player of the week award for week two with his 8 tackle, 2 interception performance against the Mahoning Valley Thunder that secured the team's first win in franchise history.

Stepter will be among a group of 35 players that report to the Barnstormers training camp this February to compete for a spot with the club. The 2011 Arena Football League season kicks off this spring, with the Barnstormers home opener scheduled for Friday, March 25th when the defending AFL champion Spokane Shock come to town. Don't forget that 2011 Iowa Barnstormers season tickets remain on sale for as low as $117.00 per seat! Call 515-633-2255 or visit www.theiowabarnstormers.com for more information.