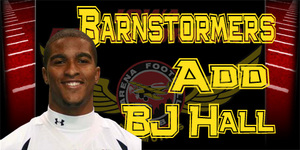 DES MOINES – Iowa Barnstormers Head Coach and Director of Football Operations John Gregory announced today that the Arena Football League team has agreed to terms with free agent quarterback B.J. Hall.
Hall (6-3, 215) appeared in 3 games for the Dallas Vigilantes of the AFL in 2010, completing 40 of 70 passes for 398 yards and 6 touchdowns. He also ran for 55 yards and one score. In 2009 he was the starting quarterback for the New Mexico Wildcats of the AIFA. While with the Wildcats, Hall passed for 2,041 yards and 41 touchdowns while completing 68% of his passes and rushing for 3 touchdowns. B.J. has also spent time with the Lehigh Valley Outlawz (CIFL) and the Hamilton Tiger Cats (CFL). He played college ball at Troy University and Webber International University.
When asked to comment on his latest signing, Coach Gregory said "B.J. is a versatile quarterback who can beat you with both his arms and his legs. I feel that he will be an asset to our team and I look forward to watching him continue to develop as a player".
With the addition of Hall, the Barnstormers now have 25 players under contract for the 2011 season. Expect more announcements from Coach Gregory and the Barnstormers in the coming days. Don't forget that 2011 Iowa Barnstormers season tickets remain on sale for as low as $117.00 per seat! The home opener is scheduled for Friday, March 25th when the defending AFL champion Spokane Shock come to town. To order your tickets, call 515-633-2255 or visit www.theiowabarnstormers.com for more information.