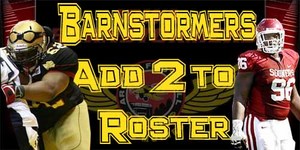 DES MOINES – Iowa Barnstormers Head Coach and Director of Football Operations John Gregory announced this afternoon that the Arena Football league franchise has reached agreement with DL DeMarcus Granger along with OL Eric Anderson.
Granger (6-3, 320) joins the Barnstormers after being released by the Seattle Seahawks in the spring of 2010. Granger had a four year standout collegiate career at the University of Oklahoma from 2006-09. Granger appeared in 37 games for the Sooners over his first 3 seasons. In 2007 he was named to the all big-12 second team after compiling 35 tackles including 8 for a loss along with 3.5 sacks. At one point he was one of the top rated defensive line prospects in the country. However a back injury suffered at the end of his junior year sidelined Granger for nearly all of his senior season. Granger was able to return to compete in the Sun Bowl, where he registered 3 tackles and helped lead Oklahoma to a victory over Stanford. The Dallas, TX native was one of the most highly touted prospects in the entire state during high school.
Anderson, (6-2, 305) will return to the Barnstormers for a fourth season in 2011. Over the past three seasons, Anderson has started at guard for the Barnstormers in 46 of 48 games. He was part of an offensive line unit that went 10 straight games without allowing a sack in 2009. The Marietta, GA native played his college ball at Memphis, where he lettered for 2 seasons.
Granger and Anderson are part of a group of 35 players that will report to the Barnstormers training camp this February to compete for a spot with the club. The 2011 Arena Football League season kicks off this spring, with the Barnstormers home opener set for March 25th when they host the defending AFL champion Spokane Shock. Don't forget that 2011 Iowa Barnstormers season tickets remain on sale for as low as $117.00 per seat! Call 515-633-2255 or visit www.theiowabarnstormers.com for more information.