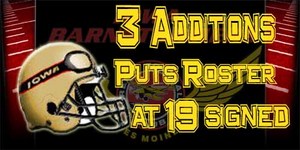 DES MOINES – The Iowa Barnstormers have had a busy week making key additions on the defensive side of the ball. Thursday morning was no different as Head Coach and Director of Football Operations John Gregory announced that the Arena Football league franchise has reached agreement with Defensive Backs Clarence Ward and Chris Felder along with Defensive Lineman Chance Talbert.
Ward (6-0, 193) joins the Barnstormers following a collegiate career at the University of Texas El Paso (UTEP). He spent some time briefly last season with the AFL's Dallas Vigilantes, but did not see any playing time. During his senior season at UTEP in 2009, Ward finished second on the team with 73 tackles, while also recording 8 pass break-ups, one fumble recovery and one interception. Ward was born in Frankfurt, Germany before his family moved to Florida. While at Pensacola High School, he was rated the #12 player in the state of Florida by rivals.com.
Chris Felder (5-11, 185) joins the Barnstormers for his first season in the AFL. Felder played college ball for the University of Alabama at Birmingham (UAB) where in 23 career games he recorded 60 tackles and 2 interceptions. Prior to UAB, Felder attended Butler County Community College (Kansas) where he won a national championship in 2003. The Camden, AL native played high school football at Wilcox Central where he was rated as the 13th best cornerback in the country.
Chance Talbert (6-5, 290) signs with Iowa after spending four seasons playing for Rice University. Talbert appeared in 36 career games for Rice and was named to the Honorable Mention all Conference USA team in 2008. That same season, he recorded 5 tackles in the Texas Bowl, leading his team to a victory over Western Michigan. The Hurst, TX native played high school football at The Oakridge School where he was named most valuable defensive lineman in both 2003 and 2004.
Ward, Felder and Talbert are part of a group of 35 players that will report to the Barnstormers training camp this February to compete for a spot with the club. The 2011 Arena Football League season kicks off this spring, with the Barnstormers home opener set for March 25th when they host the defending AFL champion Spokane Shock. Don't forget that 2011 Iowa Barnstormers season tickets remain on sale for as low as $117.00 per seat! Call 515-633-2255 or visit www.theiowabarnstormers.com for more information.