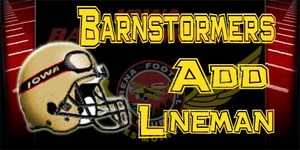 DES MOINES – Iowa Barnstormers Head Coach and Director of Football Operations John Gregory announced this morning that the Arena Football league franchise has reached agreement with Conor Reilly, A defensive lineman from Ohio University. Reilly joins the Barnstormers for his rookie season in the AFL.
Reilly (6-2, 255) played in 47 career games at Ohio from 2006-09, where he lettered in all 4 years. During that time, he was a strong contributor to the Bobcats as the team won two Mid-American East Conference titles and went to 2 bowl games: the GMAC Bowl in 2007 and the Little Caesar's Pizza Bowl in 2009. During his senior season, Reilly played in 11 games recording 16 tackles including 4 for a loss, 3 sacks, 1 fumble recovery and 1 interception. Over his 4 year career he totaled 9 sacks. The Hudson, Ohio native was selected to the Division I Ohio All-State team and was a starter in the North vs. South All-Ohio Bowl as a high school senior.
Reilly will be among a group of 35 players that report to the Barnstormers training camp this February to compete for a spot with the club. The 2011 Arena Football League season kicks off this spring, with the Barnstormers home opener scheduled for Friday, March 25th when the defending AFL champion Spokane Shock come to town. Don't forget that 2011 Iowa Barnstormers season tickets remain on sale for as low as $117.00 per seat! Call 515-633-2255 or visit www.theiowabarnstormers.com for more information.