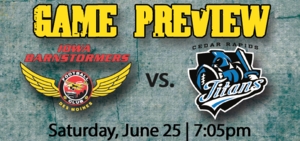 GAME PREVIEW: Iowa Barnstormers vs. Cedar Rapids Titans
Iowa welcomes Cedar Rapids to Des Moines for an Iowa Bowl matchup with the Titans
DES MOINES – The Iowa Barnstormers (4-11) are home for the second week in a row looking to take on the Cedar Rapids Titans (11-4) for the third time this season. The game is set to kickoff at 7:05 p.m. on Saturday June 25, 2016 at Wells Fargo Arena in Des Moines, Iowa. Fans will be able to tune in to the game by watching live on IFLLive.tv, listening on WHO Radio 1040 or watching locally on Mediacom MC22.
The Barnstormers are looking to close the season on a high note after falling in their last six games. In their most recent battle the Barnstormers faced off against United Conference foe Wichita Falls Nighthawks. Barnstormers' quarterback Travis Partridge is quickly becoming one of the most dominant offensive forces in the IFL. Partridge lead the Barnstormer offense completing 22 of 34 passes for 265 yards and five touchdowns while rushing for three more scores. Linebacker Javicz Jones once again led the Barnstormers defense recording 14 tackles including 1.5 tackles for loss.
The Titans (11-4) are currently enjoying a six game winning streak most recently defeating the Billings Wolves (7-8) back on June 11, 28-20. In their most recent victory the Titans offense was led by receiver Ryan Balentine as he hauled in 60 receiving yards with his lone touchdown coming on a 31-yard bomb from quarterback Dylan Favre. Linebacker Nikolas Sierra continues to lead the Titans on defense recording eight tackles including one tackle for loss.
Saturday's matchup between the Barnstormers and Titans will be the third battle for the Iowa Bowl of the season and the fifth matchup of the teams overall. The Barnstormers are looking steal their first win against the Titans. This will be a matchup of opposites as the Barnstormers bring their top ranked passing offense up against the top ranked Titans' defense. The Barnstormers are currently first in the IFL in yards per game (221.6), and yards (3324) while ranking second in yards per attempt (6.6) and third in passing touchdowns (62). On the other hand the Titans lead the IFL in numerous defensive categories such as: points per game allowed (39.1), yards allowed per game (136.8) and sacks (40).
There is still time to order tickets for the season finale. Fans can order tickets by calling the Barnstormers at 515-633-2255 or by stopping by the Wells Fargo Arena Box Office. Tickets are also available online at www.theiowabarnstormers.com.
###