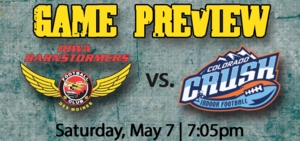 GAME PREVIEW: Iowa Barnstormers vs. Colorado Crush
Iowa welcomes Colorado to Wells Fargo Arena
DES MOINES – The Iowa Barnstormers (4-5) are back home this week as they face the Colorado Crush (1-8). The game kicks off on Saturday, May 7 at 7:05 p.m. CDT at Wells Fargo Arena in Des Moines, Iowa. Fans will be able to tune in to the game by watching live on IFLLive.tv, listening on WHO Radio 1040 or watching locally on Mediacom MC22.
The Barnstormers defeated the Nebraska Danger (5-5) last Friday night in Grand Island, Nebraska, 37-30. In what may have been considered a must win game for Iowa, newly crowned starting quarterback Brion Carnes led the Barnstormers to victory. Carnes was responsible for all five touchdowns scored by the Barnstormers Friday night completing 22 of 34 pass attempts totaling 240 passing yards and four touchdowns. Carnes also led the team in rushing adding eight rushes for 29 yards and a touchdown. Defenses were key in this relatively low scoring affair and the Barnstormers were led by defensive lineman Reshard Simmons. Simmons collected seven and a half total tackles including a sack, helping the Barnstormers hold the Danger to under 200 yards of offense.
The Crush recorded their first win of the season last week in from of their home crowd in Fort Collins, Colorado, against the Wichita Falls Nighthawks (5-3). The Crush were in control from the start jumping out to a 20-9 first quarter lead and never looking back. Crush quarterback Damien Fleming was red hot throwing for seven touchdowns while completing 18 of 29 passes for 277 yards. Defensive back L.J. Stroman led the Crush defense recording 13 total tackles and forcing a fumble. The Crush staved off any chance of a Nighthawk comeback earning the victory, 60-47.
In this week's matchup between the Iowa Barnstormers will be riding the stellar play of starting quarterback Brion Carnes. Carnes has only started the past two games for the Barnstormers, but has racked up 458 yards and eight touchdowns while completing 63 percent of his passes. Carnes has also led the team in rushing the past two weeks recording 46 yards and three touchdowns on the ground. The Crush will looks to quarterback Damien Fleming to have another solid outing after his seven touchdown performance last week, but look for him to have a tougher time against the Barnstormers' fourth ranked pass defense.
In the most recent matchup between these teams the Barnstormers defeated the Crush, 56-50, the Budweiser Events Center in Fort Collings, Colorado on February 20, 2016. Next week, the Barnstormers enjoy a bye week as they prepare to travel to Cedar Rapids to take on the Titans on May 21.
There is still time to order single game or partial season tickets. Fans can order tickets by calling the Barnstormers at 515-633-2255 or by stopping by the Wells Fargo Arena Box Office. Tickets are also available online at www.theiowabarnstormers.com.
###