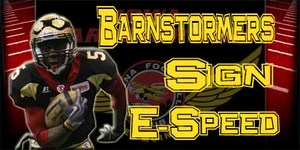 DES MOINES – Iowa

Barnstormers Head Coach and Director of Football Operations John Gregory announced last evening that the Arena Football League team has reached agreement with free agent wide receiver Errick McCown along with offensive lineman Mike Jones. The 2011 season will be McCown's fourth season with the Barnstormers, and fifth overall playing arena football.
At 6-0, 190lbs the veteran from Oklahoma State University has been a fan favorite since joining the Barnstormers in 2008. Nicknamed "E-Speed" for his blazing quickness, McCown recorded 46 receptions for 538 yards and 7 touchdowns in 2010, despite missing part or all of 7 games with a foot injury. His best season was in 2009 when he compiled 107 receptions for 1,404 yards and 23 touchdowns.
"Errick is a very important piece to the puzzle", commented Gregory. "He provides the deep threat that every team in this league is looking for. I'm very glad to have him back for the 2011 season."
Meanwhile Jones (6-2, 335lbs) re-joins the Barnstormers for a second season. He participated in two games with Iowa in 2009, after spending most of the season as a member of the practice squad. The Tarleton State alumnus was named to the LSC South Division All-First Team in 2007 and was a starter on an offensive line unit that rushed for 370 yards per game in 2006.
With these additions, the Barnstormers now have seven players under contract for the 2011 season. The free-agency signing period for the Arena Football League is underway. Expect more announcements from Coach Gregory and the Barnstormers in the coming days. Don't forget that 2011 Iowa Barnstormers season tickets remain on sale for as low as $117.00 per seat! Enjoy all 9 home games from the same great seat beginning this March. Don't miss a minute of the action this season. Call 515-633-2255 or visit www.theiowabarnstormers.com for more information.
|
Back to index...