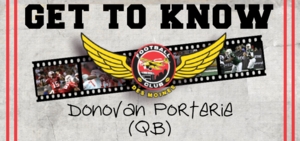 Get to Know Barnstormers QB, Donovan Porterie
Iowa Barnstormers quarterback Donovan Porterie clearly remembers his first visit to Des Moines. Now, he looks forward to hearing the fans cheering for his team at Wells Fargo Arena.
During the Iowa Barnstormers' 2015 home opener on April 11, Donovan Porterie and his Blizzard teammates stepped on to the field for their second of three meetings versus the Barnstormers that season. His first-ever game at Wells Fargo Arena, Porterie remembers many aspects about his opponent: the arena, fans, and most importantly the atmosphere. "I could tell it is a good place to play, a top-of-the-line franchise with a nice facility," noted Porterie. "The atmosphere is what I am most excited about. I can't wait to pack the arena and help lead the Barnstormers to a great season."
Currently preparing for his fifth season in the Indoor Football League, Porterie spends his offseason training in Albuquerque, New Mexico. In addition to his workouts at Wellbridge Sports and Wellness, he works in their corporate department doing sales and marketing. Porterie's sights are already set on 2016.
"Everyone's goal is to win games, but part of that is knowing the system and being a leader. I want to spend as much time as I can picking Coach Brannen's brain," Porterie said. Not only does he prioritize quality time with the coaching staff, but also understanding the dynamic of the team. "You've got to know your surroundings and the guys you're on the field with." Porterie highlights his ability to lead and believes that he not only leads by example, but is also a very vocal athlete.
With the 2016 season quickly approaching, we can only hope that Porterie is motivated by the extensive chime of ringing cowbells. Is it February yet?
Learn more about Porterie in the Q & A below:
What is your greatest football moment?
"Outside of signing a free agent deal with the Detroit Lions, probably winning the New Mexico Bowl. We played against the University of Nevada in 2007, against Colin Kaepernick. We beat them 23-0 and I was nominated MVP. I was on top of the world at that moment."
Who is your football role model?
"There isn't just one person that I put on a pedestal. I try to take a little bit from all of the greats. One guy that I have taken a lot from is Warren Moon. He started his football career in the CFL, played for 5-6 years and won several Grey Cups, then went on the be great in the NFL. He showed a lot of humility, not going in to the NFL right off the cuff. Each year he got better until it was his time and I see a lot of that in myself."
Who is your biggest fan?
"My mom. Outside of my other immediate family and my agent, my mom has always been there. She was a First Lieutenant for 23 years and some games I thought it was going to be so hard for her to get there with her schedule, but she always found a way. She is sort of like a best friend. Not taking anything away from my brother, sister, or dad, but her brother played at Oklahoma State and then for the Cleveland Browns for a bit. So, she has been around the game."
What other positions have you played?
"I've always played quarterback, since little league. Probably since age 11."
If you could play any other sport, what would it be?
"Baseball. My older brother was really good at baseball. It amazes me that guys can hit fast balls coming in at 100 miles per hour. I was heavily recruited for football in high school, so I never really got the opportunity to play."
What are your favorite professional team(s)? "I am grandfathered in as a Dallas Cowboys fan, my family loves them. I'm more-so a player-watcher, but I do root for the Cowboys. I am also a Green Bay Packers fan because of Brett Farve. I also love the San Diego Chargers. In basketball, I was a Milwaukee Buccs fan when they had Ray Allen."
What are your hobbies?
"I am a pretty good artist. I like to draw. I have a vivid imagination and memory. If I can think it, I can draw it. I have drawn portraits for my family and friends. Maybe someday when I retire from football, I will get deeper in to it."
What else should Barnstormers fans know about you?
"I am an easy-going guy. If I look intense, it's probably because I'm focusing on the game. I'm easy to talk to. I love kids and interacting with fans."