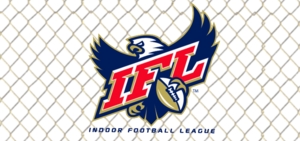 IFL Annual League Meetings Conclude
New Conference & Divisional Alignments Set
Las Vegas, NV – The 2015 Indoor Football League (IFL) Annual Board of Directors Meetings have concluded in Las Vegas NV. Throughout the two-day event at Bally's Hotel and Casino, the IFL continued to build off of a highly successful 2015 season and offseason while continuing to strengthen the league's economic model and develop a solid geographic footprint.
During the meetings, the IFL Board of Directors voted and established new conference alignments. The League also voted to reestablish divisional alignments to further emphasize regional rivalries. The newest additions to the IFL family in the Spokane Shock and the Minnesota Havok have been added to the Intense and United Conferences respectively.
UNITED CONFERENCE
North Division
Bemidji Axemen
Cedar Rapids Titans
Green Bay Blizzard
Midwest Division
Iowa Barnstormers
Minnesota Havok
Sioux Falls Storm
INTENSE CONFERENCE
Central Division
Colorado Crush
Nebraska Danger
Wichita Falls Nighthawks
West Division
Billings Wolves
Spokane Shock
Tri-Cities Fever
With the development of new conference and divisional alignments, the Board of Directors also restructured the playoff format for the 2016 season. Six teams will qualify for the 2016 playoffs with the four divisional winners receiving an automatic bid. In addition, there will be one wild card team from each conference. Playoff format is as follows:
Round 1:

#1 seeds in each conference have a bye

#2 seeds in each conference host #3 seeds
Round 2:

#1 seeds in each conference host winner of #2/#3 matchup
Winners are named conference champions
Round 3:
Highest seeded conference champion hosts lower seed conference champion in the United Bowl
The IFL Board of Directors also elected a new Executive Committee to oversee the management, growth and development of the League. Tri-Cities Fever Owner Teri Carr was elected as the Chairwoman of the Board. After serving several years on the Executive Committee, this is Carr's first term as Chairwoman. Joining Carr on the Committee is Jeff Lamberti from the Iowa Barnstormers. This is Lamberti's second year as a member of the Committee. Finally, Nader Naini of the Spokane Shock was elected as the final member of the Executive Committee. The Shock will begin their first season of IFL play next spring.
Throughout the two-day event, league members participated in team building activities to solidify the bonds that exist within the IFL Family. The league also created and cultivated innovative practices to improve and expand upon its business model.
The 2016 IFL regular season schedule will be released in the coming weeks.
###