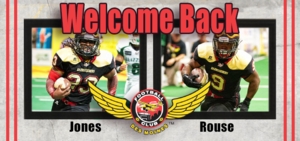 Barnstormers Re-sign Key Components
LB Jones & RB Rouse Sign 2016 Contracts with Iowa
DES MOINES - The Iowa Barnstormers have re-signed two key competitors to their 2016 roster including First Team All-IFL selection Javicz Jones and the team's leading rusher Robbie Rouse, Head Coach Joe Brannen announced today.
"Javicz's return is huge for the Barnstormers," said Brannen. "Not only is he an All-IFL player and a top performing linebacker, he is also the prime example of an 'Iowa Barnstormer'. He is a guy that leads by example on the practice field and game nights, in the film room, and throughout the Des Moines community."
Jones (6-0, 230, Mary Hardin Baylor) joined the Barnstormers in 2015 and immediately made a positive impact on the field and in the community. The team captain saw action in all 14 games and finished at the top of several Barnstormers defensive categories including solo tackles (72), assists (51), total tackles (97.5), tackles for loss (14.5-37), and blocked kicks (2). A fan favorite, Jones is a leader of the team's community involvement. The 2016 season will mark Jones' third year of experience in the Indoor Football League (IFL).
Last season, Rouse (5-6, 190, Fresno State) started play with the Barnstormers in Week 7. Although he was signed mid-season, Rouse had no difficulty catching on to the Barnstormers offense. In his first game, the former D1 athlete tallied 22 carries for 48 yards and two touchdowns. Rouse completed the season as the Barnstormers leading rusher with 153 attempts for 352 yards and ten touchdowns. "Bringing Robbie back was definitely an off-season priority for us," noted Brannen. "He is a dynamic player who has an amazing ability to carry the football, catch passes in the backfield, line up at wide receiver, and make advances on the special teams unit. I look forward to seeing his skills further develop in his second year with the Barnstormers."
Season tickets for the 2016 Iowa Barnstormers season are now available! For as low as $80 per seat, fans can enjoy the same great location each game in addition to merchandise discounts and a ticket to the annual end-of-the-season party. Call the Barnstormers at 515-633-2255 to purchase your season tickets today!
###