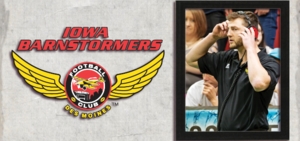 Barnstormers Promote Simpson to Defensive Coordinator
Jason Simpson Hired to 2016 Coaching Staff
DES MOINES – Jason Simpson has been named the Iowa Barnstormers' Defensive Coordinator for the 2016 season, franchise officials announced today.
"I am excited about the passion, knowledge, and energy that Simpson brings to the team," said Head Coach Joe Brannen. "We laid the foundation with many positives in our first season and moving Simpson to defensive coordinator will help get us to the next level. His style, approach, and technique is exactly what we need to train these players."
Simpson joins the Iowa Barnstormers for his second season assisting the team's coaching staff after previously playing seven seasons of professional football. In 2015, the Barnstormers veteran mentored the defensive backs squad. One of the hardest-hitting players in the indoor game, Simpson holds several Barnstormers records and has been recognized as an All-Arena Football League player.
In 2008, Simpson entered professional football with the Iowa Barnstormers. During a one-year stint with the Chicago Rush, Simpson was named to the All-Ironman team after recording a career-high of 107.5 tackles. Upon returning to Iowa, the former Mizzou Tiger earned First-Team All-AFL honors and recorded a franchise single-season record of ten interceptions. Simpson also currently holds Barnstormers records in categories of single-game interceptions (3), single-season combined kick return yards (1,723), and single-season kick return yards (1,711).
With the Barnstormers for six total seasons, Simpson is familiar with the team's tradition and goals on and off the field. His experience in the game proves that he has the strategic mind and mentality to lead a successful defense.
"I'm just excited. It is a blessing to continue being a part of Barnstormers football. When you're out, injured like I was last season, you appreciate the sport even more," said Coach Simpson. "I have always thought about coaching here. The Barnstormers have the best fans around and I have a great relationship with the ownership. I can't wait to help lead this premier football franchise to a great 2016 season."
Season tickets for the 2016 Iowa Barnstormers season are now available! For as low as $80 per seat, fans can enjoy the same great location each game in addition to merchandise discounts and a ticket to the annual end-of-the-season party. Call the Barnstormers at 515-633-2255 to purchase your season tickets today!
###