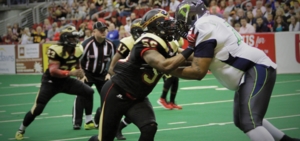 Iowa Barnstormers Stopped by Nebraska Danger
Barnstormers Outdueled by Danger, 33-16
Des Moines, IA – The Iowa Barnstormers (2-4) were defeated 33-16 by the Nebraska Danger (6-1) Saturday evening at Wells Fargo Arena in downtown Des Moines, Iowa.
In a scoreless first quarter for the Iowa Barnstormers home team, the Nebraska Danger pulled out ahead to advance a 19-0 lead. Nebraska quarterback Bryan Parnes found Week 7's Offensive Player of the Game, Kayne Farquharson, for two touchdown scores. Proving his ability to control the game, Parnes also tallied a rushing touchdown. Iowa Barnstormers 0, Nebraska Danger 19.
In the second, the Barnstormers continued to make their way down the field, but couldn't convert. After several field goal attempts, the Barnstormers put up their first points of the night with a 43-yard field goal by K Josh Gable. Nebraska increased the scoreboard margin with a touchdown reception by receiver Jasonus Tillery. Iowa Barnstormers 3, Nebraska Danger 26.
In an eventful third quarter, the Barnstormers gained on the scoreboard. After a missed field goal attempt by the Danger, Iowa quarterback Robbie Nallenweg connected with receiver Lemans Casimier for a Barnstormers touchdown. After Parnes was taken out of the game due to injury, the Danger were forced to step up their rushing game. Back to take the snap, running back Waymon James took the ball to the end zone. The Barnstormers would finish the quarter with the final tally, a quarterback sneak by Nallenweg. Iowa Barnstormers 16, Nebraska Danger 33.
The fourth quarter of the night went completely scoreless as neither team could find the end zone. For the night, Iowa's Nallenweg completed 25 of 42 passes for 189 yards, and two total touchdowns. Leading the team's offensive game, Robbie Rouse had nine attempts for 59 yards. On the other side of the ball, linebacker Javicz Jones collected six total tackles, four solo and four assists. The Iowa Barnstormers head to Sioux Falls next Saturday, April 25th for their Week 9 matchup.
###