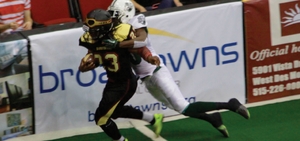 Iowa Barnstormers Score Season High in Home Opener
Barnstormers Defeat Blizzard, 75-64
Des Moines, IA – The Iowa Barnstormers (2-3) defeated the Green Bay Blizzard (2-3) 75-64 in their home opener and in front of 6,176 fans at Wells Fargo Arena.
Getting their chance to hit the scoreboard first, the Iowa Barnstormers had the perfect sequence of plays for the IFL home opener. The Barnstormers took the Blizzard by surprise by keeping the ball on the ground until entering the red zone. Iowa QB Robbie Nallenweg then connected with WR Chris Bowden in the end zone. Looking to gain an early lead, the Barnstormers would go for two. With WR Lemans Casimier in the pocket, he found fellow receiver Brady Roland for the score. Within the first five minutes, the Barnstormers took an 8-0 lead. Going back-and-forth, the rival Blizzard kept up the pace. With credit to LB Austin Benson for an interception, the Barnstormers stole the ball and snuck in to the end zone with a Nallenweg carry. A Barnstormers rouge, kick return touchdown, and 52 yard field goal rounded out an exciting first quarter for the home team. Iowa Barnstormers 32, Green Bay Blizzard 25.
In a slower second quarter, Iowa was nearly outscored by Green Bay. Only collecting sixteen points, the Blizzard offense narrowed the margin by tallying fifteen. Two long touchdowns from Nallenweg to Roland kept the Barnstormers in the lead. Green Bay's leading receiver Demarius Washington collected another touchdown score while Iowa's Benson snagged his second interception of the night. At the half, the Barnstormers led by fourteen. Iowa Barnstormers 48, Green Bay Blizzard 34.
Coming out of the locker room, the Barnstormers stayed just out of reach. Starting with the Blizzard, each team exchanged a pair of touchdowns. For his first touchdown of the night, receiver Johnny Thomas scored for Iowa. A new recruit for the Barnstormers offense, running back Robbie Rouse also tallied his first of two touchdowns for the night. Iowa Barnstormers 62, Green Bay Blizzard 48.
Although the Barnstormers held a solid lead, the team did not let their visitor get back in to the game. Even a touchdown and two-point conversion with less than a minute left on the clock would not be enough for the Blizzard to take the victory. At the final buzzer, Iowa Barnstormers 75, Green Bay Blizzard 64.
###