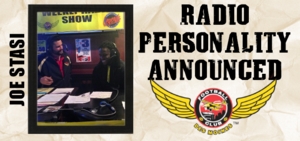 Barnstormers Announce Radio Personality
Joe Stasi to Take Over Play-by-Play for 2015
DES MOINES – The Iowa Barnstormers have announced that Joe Stasi will return to the radio booth as the team's play-by-play voice and weekly radio show host for the 2015 season.
"We are very excited that scheduling allows Joe to return as our play-by-play," said Vice President and Chief Operating Officer John Pettit. "He is very enthusiastic about the game. No one knows the Barnstormers better."
No stranger to the Iowa Barnstormers tradition, Stasi is a seven-year veteran of Barnstormers broadcasting. This season, Stasi will call all home and away games as the team's play-by-play radio personality on WHO 1040 AM. In addition, he will continue to host the Barnstormers Weekly radio show from Legends American Grill downtown every Tuesday from 6:00 – 7:00 p.m. on 1460 KXNO.
When the Barnstormers returned to Des Moines in 2008, Stasi joined the team as official radio play-by-play and host of the Barnstormers Weekly radio show. Since, he has appeared as the team's sideline reporter for Mediacom's live television broadcasts and, most recently, co-hosted aside Jim Brinson as color commentator.
In 1991, Stasi graduated from Upper Iowa University and began his broadcasting career as play-by-play personality for high school football. A natural in the sports industry, Stasi continues his passion as football play-by-play for his alma mater and for the Des Moines Sports Station, 1460 KXNO.
"The Barnstormers have set themselves up well," said Stasi when asked about the upcoming season. "I am excited to celebrate the Barnstormers tradition and watch a winning team develop. I'm honored to be a part of it."
An Iowa Barnstormers game is the perfect event for your next group outing! Discount ticket packages are available for groups of 15 or more and include a video board announcement. For more information, log on to www.theiowabarnstormers.com or call 515-633-2255.
###