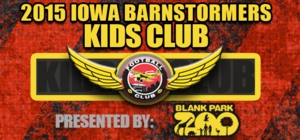 Iowa Barnstormers Launch 2015 Kids Club
Barnstormers Kids Club Sponsored by Blank Park Zoo
DES MOINES – The Iowa Barnstormers are pleased to announce the re-launch of their Official Kids Club for the 2015 season. The Iowa Barnstormers Kids Club provides a great opportunity for the youth of Iowa to interact with and learn about the day-to-day activities of their favorite sports team. Blank Park Zoo of Des Moines, Iowa will once again be the proud sponsor of the Kids Club.
The Iowa Barnstormers Kids Club is open to kids ages 2-14. The cost is $25.00 per child and includes an official membership card, Barnstormers mini replica football, one (1) free ticket to any 2015 Barnstormers home game, autographed player photo, birthday card, and an invitation to the Kids Club Party. The Barnstormers offer a discount rate of $20.00 for season ticket holders and their immediate family members. Registration is available now by calling 515-633-2255 or by visiting the Customer Service Booth at any Barnstormers home game.
New to the Kids Club this season will be a Pick-Up Party hosted at the Iowa Events Center. At this event, Kids Club participants will receive their official membership packets including membership cards and ticket vouchers. Members will also have the opportunity to meet Barnstormers players prior to the team's home opener on April 11th.
The Iowa Barnstormers Annual End-of-the-Season Kids Club Party will once again be held at Blank Park Zoo. Details for this event are to be announced.
The Iowa Barnstormers kick off their 2-week training camp this Friday in Pella, Iowa. Training camp practices are held daily and are open to the public and media. An inter-squad scrimmage will be held on Saturday, February 14th at 10:00 a.m. For more information about the Iowa Barnstormers 2015 Training Camp, log onto www.theiowabarnstormers.com.
###