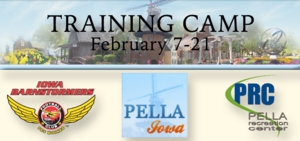 Barnstormers Training Camp Moves to Pella
Iowa's Training Camp Kicks Off Next Friday
DES MOINES – Iowa Barnstormers Vice President and Chief Operating Officer John Pettit along with Head Coach Joe Brannen unveiled plans today regarding the team's 2015 Training Camp. This season, the Iowa Barnstormers will be holding their 2-week training camp in Pella, Iowa at the Pella Recreation Center Field House. Training Camp officially opens February 7 when 40 players from around the country will work to earn a spot on the Barnstormers 2015 roster.
In the first week of the Iowa Barnstormers Training Camp, practice will take place daily at 8:00 a.m. Week two's practices will be held at 7:30 a.m. Training Camp practices are open to the general public and all media. In place of practice, the team will hold an inter-squad scrimmage on Saturday, February 14 at 10:00 a.m. The team's full practice schedule is available below.
In addition to practices, the Barnstormers will engage in several community events within the Pella area. For more information about these community events, reference the Iowa Barnstormers official website or Facebook page.
Season tickets are on sale for the Iowa Barnstormers 2015 season starting as low as $77 per seat. Season tickets are the perfect gift for the football fan in your family. Don't miss a minute of the action this season! For more information, call the Barnstormers at (515) 633-2255 or log onto www.theiowabarnstormers.com.  
2015 Iowa Barnstormers Training Camp Practice Schedule
WEEK 1:
| | | |
| --- | --- | --- |
| Day/Date | Location | Time |
| Saturday, February 7th | Pella Rec Center - Field House | 8:00am-12:00pm |
| Sunday, February 8th | Pella Rec Center - Field House | 8:00am-12:00pm |
| Monday, February 9th | Pella Rec Center - Field House | 8:00am-12:00pm |
| Tuesday, February 10th | Pella Rec Center - Field House | 8:00am-12:00pm |
| Wednesday, February 11th | Pella Rec Center - Field House | 8:00am-12:00pm |
| Thursday, February 12th | Pella Rec Center - Field House | 8:00am-12:00pm |
| Friday, February 13th | Pella Rec Center - Field House | 8:00am-12:00pm |
| Saturday, February 14th | Pella Rec Center - Field House | 8:00am-12:00pm |
WEEK 2: