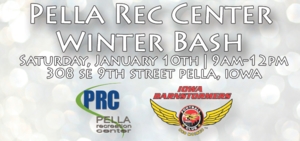 We will be at the Pella Rec Center Winter Bash on Saturday, January 10th from 9:00am-12:00pm. Join members of the Iowa Barnstormers front office staff, coaching staff, and Storm Chasers Dance Team along with Billy the Barnstormer to tour the home of our 2015 Training Camp! Participate in classes, activities, and more.
Stop by our booth to spin our prize wheel and learn more about our upcoming season! We hope to see you there!
CLICK HERE for more information about the Pella Rec Center.