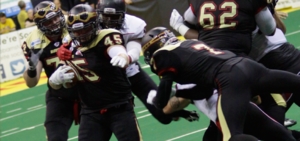 Barnstormers Defeat Predators, 58-48
Brian Reader Leads Iowa to Victory with 7 Touchdowns and 221 Yards
Des Moines, IA – The Iowa Barnstormers (6-5) defeated the Orlando Predators (6-5) 58-48 in front of 7,443 fans of Wells Fargo Arena. The Iowa Barnstormers started off then night hot with the help of fullback Derik Steiner as he hauled in a 20-yard rushing touchdown, breaking through several tackles along the way. Wide open in the end zone, receiver Khalil Paden grabbed a ball in the air from Predators quarterback Jason Boltus. With the clock running down quickly, neither team was able to take the lead. At the completion of the first the score held tied, 7-7.
Iowa started off a big second quarter with the ball, but was quickly shut down by the Orlando defense. The Barnstormer's own defense fired back with a forced fumble and recovery by defensive end Mike Lewis. Taking advantage of the opportunity was receiver Darius Reynolds, bringing the score to 14-7. On the ensuing drive, Orlando's offense answered back with a 49-yard kick return and a touchdown by Michael Simons to follow. The game continued the back-and-forth rhythm when Reader connected a 49-yard touchdown pass to Reynolds for an Iowa score. The Iowa defense made another huge play by intercepting the ball from the struggling Predators. The turnover on possessions led to another touchdown by Reynolds, his third of the night. The second quarter ended on a high note when Lewis gathered up a huge sack, leaving the half time score 27-14, Iowa.
In the third, Orlando's defense came out looking for a second half comeback. An interception led to a 45-yard touchdown grab by Paden. Iowa struck again with yet another touchdown pass to Reynolds. Barnstormers ended the third quarter with Reader connecting a quick fire 6-yard pass to Marco Thomas. Barnstormers 41, Predators 21.
The Orlando Predators brought in a new quarterback to take over in the fourth. With the lead of Bernard Morris, the team scored early with a quick pass to receiver Larry Brackins, shrinking the gap to 41-27. Without delay, the Barnstormers would finalize the scoreboard with touchdowns by receivers DeJay Lester and another by M. Thomas followed by a successful 22-yard field goal attempt by kicker Ross Gornall.
Reader completed the night 21-of-32 with seven touchdown passes for 221 yards. Iowa's leading receiver for the night Reynolds tallied four touchdown scores and 123 receiving yards. Dominating on defense with seven total tackles and three quarterback sacks was the Riddell Defensive Player of the Game, Lewis.
Russell Athletic Offensive Player of the Game: Iowa QB Brian Reader
Riddell Defensive Player of the Game: Iowa DE Mike Lewis
J. Lewis Small Playmaker of the Game: Iowa DB Devon Dace
Cutter's Catch of the Game: Darius Reynolds 43-yard touchdown catch from Brian Reader
AFL Highlight of the Game: Iowa Mike Lewis forced fumble and recovery (2nd Quarter)
###