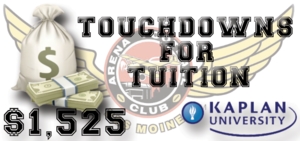 After 9 games this season, the Kaplan University Touchdowns for Tuition Scholarship Fund is at $1,525.00.
Throughout the 2014 season, Kaplan University is donating $25.00 for every touchdown scored toward a scholarship for one lucky fan. The scholarship is good for one semester's tuition at Kaplan University in Des Moines.
So far this season, the Iowa Barnstormers have scored a total of 61 touchdowns adding up to $1,525.00 and we're only halfway through the season!
For the chance to win this scholarship, sign up HERE or visit Kaplan University on the main concourse at any 2014 Iowa Barnstormers home game.