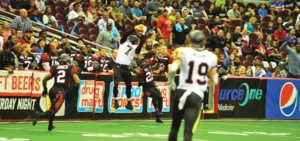 Barnstormers Fall to Undefeated Gladiators, 46-63
Iowa Unable to Outplay Cleveland in Second Half
Des Moines, IA – Looking to take the first victory of the 2014 season from the Cleveland Gladiators, the Iowa Barnstormers fell 48-63 in front of 7,156 fans of Wells Fargo Arena.
After a tough loss in last week's home matchup versus the Jacksonville Sharks, the Barnstormers offense started off the game with the lead of QB Brian Reader. Scoring the first fourteen points of the game was one of Iowa's key receivers, Darius Reynolds. Barnstormers' defensive back Ter'Ran Benton contributed to the early efforts by intercepting Cleveland quarterback Shane Austin. However, the Barnstormers wouldn't go unanswered. The Gladiators were able to get in one lone touchdown before the finish of the first. A last-minute touchdown pass from Reader to wide receiver Marco Thomas pulled the Barnstormers to a 20-7 lead.
The Barnstormers defense came out strong as Mike Lewis intercepted the football from the Gladiators on their first drive of the second. Moments later, Reader connected a 4-yard touchdown pass with Marco Thomas, making the score 26-7 early in the second quarter. With Dominic Jones on their side, the Gladiators were quick to retaliate with a 58-yard touchdown. The visiting team continued to gain momentum after taking advantage of two fumble recoveries and scoring on an Iowa interception. Putting another score on the board each, the clock ran out with the Gladiators barely leading the Barnstormers, 34-33.
The Gladiator offense struck first in the second half, with a 20-yard pass from Austin to receiver Thyron Lewis. The pair connected yet again, this time with a 42-yard pass which brought the margin to 50-33, Cleveland. His first appearance as a Barnstormer in the 2014 season. Replacing Reader in the middle of the third, J.J. Raterink made his first appearance as a Barnstormers for the 2014 season. Raterink unable to connect with anyone in the end zone, the Barnstormers went scoreless for the third quarter. Barnstormers 33, Gladiators 50.
Starting off the fourth, Raterink connected with M. Thomas for Iowa, narrowing the gap, 40-50. The momentum switched again, this time in favor of the Gladiators as Austin connected with Lewis for another touchdown. With one minute left in the game, Iowa's Julian Williams made an explosive touchdown, with a 16-yard grab from Raterink. The Gladiators held onto the game and their undefeated record with a score of 63-46. Starting his first game of the 2014 season, Reader completed 15 of 21 passes for 188 yards and four touchdowns while Raterink tallied 124 yards for two touchdowns. Iowa's leading receiver for the night, M. Thomas collected four touchdowns while Reynolds and Williams grabbed one each.
The Iowa Barnstormers and the Cleveland Gladiators meet again in Cleveland, OH on June 7, 2014. Meanwhile, the Barnstormers will travel to New Orleans next Saturday for their Week 11 matchup.
Russell Athletic Offensive Player of the Game: Iowa Marco Thomas
Riddell Defensive Player of the Game: Cleveland LaRoche Jackson J. Lewis
Small Playmaker of the Game: Iowa Jason Simpson
Cutter's Catch of the Game: Iowa Marco Thomas 30-yard touchdown catch (2nd quarter)
AFL Highlight of the Game: Brian Reader's 30-yard touchdown pass to Marco Thomas (2nd quarter)