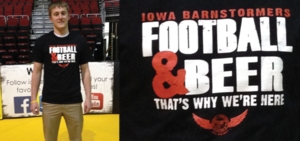 The Iowa Barnstormers take on the Cleveland Gladiators SATURDAY, May 17th, at Wells Fargo Arena! Kick off is at 7:05pm.
It's $2 Beer Night! $2 Beers will be available throughout the entire first quarter of the game! Don't miss out!
$2 Beer Night is the perfect to time to sport the T-Shirt shown above modeled by Intern Luke! You can pick one up at either the North or South Merchandise kiosks at any time during the game!
Tickets to the game are available by calling 515-633-2255 or CLICKING HERE.
Let's go Barnstormers!