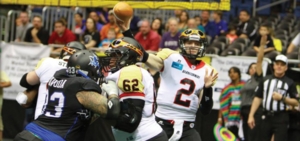 Barnstormers Shred Talons, 62-52
San Antonio, TX – The Iowa Barnstormers were able to hold off the San Antonio Talons in front of 7,283 fans in the Alamadome on Saturday night.
The second matchup of 2014 between the Iowa Barnstormers and the San Antonio Talons started as a back-and-forth battle. On opening kickoff, Talons WR P.J. Berry was unstoppable, getting into the end zone for a quick six points. The Barnstormers were quick to respond with touchdown passes from Iowa QB Carson Coffman to WR Darius Reynolds and then to rookie WR Julian Williams, his second on the season. San Antonio tied up the scoreboard 14-14 before the end of the first with another touchdown by Berry.
The second quarter started off with interception by interception until Coffman was able to connect with Reynolds on a quick 6-yard touchdown pass. Attempting to narrow the margin before the end of the half, the Talons completed a field goal bringing their efforts to a four point game. With plenty of time on the clock, Iowa's Marco Thomas tallied his first touchdown of the night. At the half Barnstormers lead, 29-17.
San Antonio was the first to score in the third quarter, but were unable to stop the Barnstormers from pulling even further ahead. The next three scoreboard tallies would go to Iowa with an offensive touchdown in the air by M. Thomas and another on the ground by fullback Derik Steiner. Defense made their presence known by keeping the Talons from scoring during the remainder of the quarter and by putting their own points on the board with a successful fumble recovery by defensive lineman Frank Trotter. Barnstormers continue to lead, 48-24.
The fourth quarter quickly started to feel like a repeat of the April 12th matchup between the Barnstormers and the Talons. Four touchdowns for the Talons made for a 28-point quarter. Not quite enough to overturn this time around, the Barnstormers held on to the victory with final touchdown efforts by Reynolds and M. Thomas. Iowa advances to a 4-3 record with a 62-52 victory over San Antonio.
The Iowa Barnstormers return home to Wells Fargo Arena next Saturday, May 10th to host the Jacksonville Sharks.