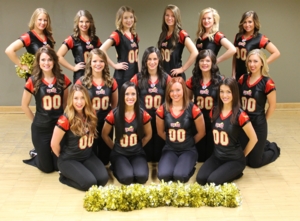 Introducing the 2014 Storm Chasers!
The Iowa Barnstormers held a successful tryout for their Storm Chasers dance team last month at the Riverside YMCA in Des Moines. In the end, 15 girls were selected for this year's squad. We would like to thank everyone who attended for participating!
Season tickets for the 2014 Iowa Barnstormers season remain on sale now for as little as $110.00 per seat. This price includes all 9 regular season home games along with the first home playoff game. Don't miss a minute of the action this season! To order your seats today, or for more information, call the Barnstormers at (515) 633-2255 or log onto www.theiowabarnstormers.com.