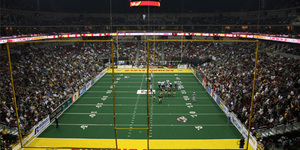 Barnstormers Fall To Rush in Return to AFL
Record Crowd of 12,184 Sees Iowa Lose Home Opener
The Iowa Barnstormers dropped a 61-43 decision to the Chicago Rush before a record crowd of 12,184 at Wellmark Field in Des Moines, IA on Friday night. The game marked the return of the Arena Football League, after a one-year hiatus. With the victory, Chicago improves to 1-0 on the season, while Iowa falls to 0-1.
Chicago jumped out to a quick 7-0 lead after DB DeJuan Alfonzo intercepted a pass thrown by Barnstormers QB Brian Villanueva and returned it for the game's first score. The Rush never looked back , as the team rallied behind the play of veteran QB Russ Michna, who threw for 6 touchdown passes in the contest. In contrast, the Barnstormers continued to struggle offensively, turning the ball over 6 times. After falling behind 17-0, Iowa Head Coach John Gregory replaced Villanueva with newcomer Ryan Vena, who got the 'Stormers within 10 at one point, but that would be as close as Iowa would ever g et.
Next up for the Barnstormers is a much needed week off, followed by a road contest in Milwaukee on \riday, April 16
th.
Iowa returns home to face the Oklahoma City Yard Dawgz on Saturday, April 24
th
. For upcoming promotions and ticket specials or to order your tickets call the Barnstormers at 515.633.2255 or log on to
www.theiowabarnstormers.com
.