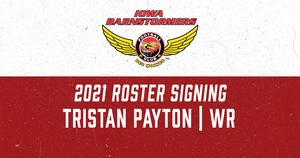 Payton Returns to Barnstormers
Wide receiver Tristan Payton returns for 2021 season
DES MOINES – The Iowa Barnstormers have re-signed wide receiver Tristan Payton to the 2021 roster, Head Coach Ameer Ismail announced today.
Payton (6-0, 195, University of Central Florida) joins the Iowa Barnstormers for his rookie season in the Indoor Football League. Collegiately, Payton played four years at the University of Central Florida. During his time with the Knights, Payton appeared in a total of 38 games and collected 35 receptions for 409 yards and two touchdowns. Payton excelled on special teams, being named to the Phil Steele All-ACC First Team as a kick returner during his freshman season and returning 43 kicks for 934 yards in his career – his longest being 47 yards. Payton also spent a brief stint at defensive back.
Initially joining the Barnstormers roster for the 2020 season, Payton earned a spot on the final roster before the season was canceled due to the COVID-19 pandemic.
More information regarding the Iowa Barnstormers 2021 season will be available soon. Follow the team on social media @iabarnstormers for the latest updates.
Facebook | Twitter | Instagram
###