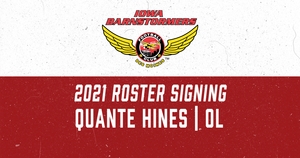 Hines Returns to Barnstormers
OL Quante Hines re-signs with Barnstormers for the 2021 season
DES MOINES – The Iowa Barnstormers have re-signed offensive lineman Quante Hines to the 2021 roster, Head Coach Ameer Ismail announced today.
Hines (6-0, 325, Bluefield College) returns to the Iowa Barnstormers for his second season with the team and in the Indoor Football League (IFL). Hines first joined the Barnstormers roster at the start of the 2019 season competing with the team through the playoffs.
Collegiately, Hines played at Bluefield College for four years at both Center and Guard. While playing with the Rams, Hines racked up several honors including First Team All Mid-South Conference, First Team All-American, and First Team NCCAA (National Christian College Athletic Association).
Hines intended to return to the Barnstormers for the 2020 season, attending Training Camp and earning a spot on the final 25-man roster before the season was canceled due to Covid-19.
"This whole experience just added more fuel to the fire because I feel like I was where I needed to be as a professional football player physically and mentally," said Hines. "I had to turn this situation into a positive and get even better with the extra time I was given."
Hines will return to Des Moines for Training Camp in the spring.
More information regarding the Iowa Barnstormers 2021 season will be available soon. Follow the team on social media @iabarnstormers for the latest updates.
Facebook | Twitter | Instagram.
###