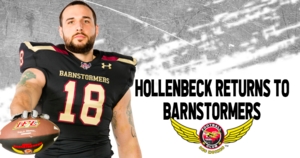 Hollenbeck Returns to Barnstormers
Iowa Barnstormers begin building 2020 roster
DES MOINES – The Iowa Barnstormers have signed their first player of the 2020 season. Wide receiver Connor Hollenbeck will return to the Barnstormers roster, Head Coach Ameer Ismail announced today.
"I can't be more excited to have a true leader back on the Barnstormers roster," said Coach Ismail. "Connor is a great teammate, knows how to win, and is a fan favorite. As a player, he is a big target with great hands that will be tough for opponents to defend."
Hollenbeck (6-6, 225, Edinboro University) returns to the Barnstormers for his second season with the team. Hollenbeck first joined the roster at the start of the 2019 season, appearing in 13 regular season games and finishing with 58 receptions for 627 yards and 14 touchdowns. Hollenbeck also appeared in the post-season. Prior to joining the Barnstormers, Hollenbeck spent two seasons with the Cedar Rapids Titans (now River Kings), where he appeared in a total of 28 games collecting 101 receptions and 25 touchdowns. At the end of the 2018 season, Hollenbeck was named Second Team All-IFL Receiver.
Collegiately, Hollenbeck spent played four years at Edinboro University appearing at both wide receiver and punter. Hollenbeck completed his collegiate career with 33 receptions for 330 yards and one touchdown.
Season Tickets for the 2020 Iowa Barnstormers season are available now! For as low as $80 per seat, fans can enjoy the action from the same great seat location each game. For more information, call the Barnstormers at (515) 633-2255 or log on to www.theiowabarnstormers.com.
###