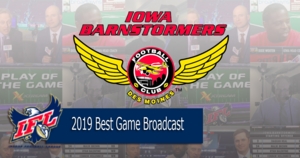 Barnstormers Earn Best Game Broadcast
Barnstormers Earn IFL Honors
DES MOINES – The Iowa Barnstormers earned the Team Award in Best Game Broadcast for the 2019 season, the League announced.
The Iowa Barnstormers have been named Best Game Broadcast in the IFL for the 2019 season. The Barnstormers earned the designation based on their game direction, graphics, in-game commentators, story lines, and appearance.
This award was earned thanks to the hard work from the Barnstormers broadcast team which includes Larry Morgan, Ben Bruns, and the entire team at Mediacom's MC22 as well as Joe Stasi and WHO Radio.
Other awards earned throughout the league include Best Fan Base, Best Game Operations, Best Mascot, and more. A full list of awards and winners can be found below.
2019 IFL Team Awards
Franchise of the Year: Arizona Rattlers
Executive of the Year: Jeff Lamberti (Iowa Barnstormers)
Best Fan Base: Arizona Rattlers
Best Game Operations: Green Bay Blizzard
Best Cheerleader/Dance Team: Arizona Rattlers
Community Relations Award: Quad City Steamwheelers
Hospitality Award: Sioux Falls Storm
Best Social Media: Cedar Rapids River Kings
Best Mascot: Green Bay Blizzard
Best Media Relations: Tucson Sugar Skulls
###