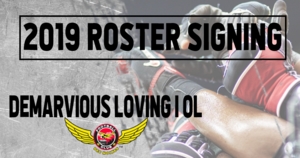 Barnstormers Add Offensive Lineman
OL Demarvious Loving Signs with Barnstormers
DES MOINES – The Iowa Barnstormers have signed offensive lineman Demarvious Loving to the 2019 roster, Head Coach Dixie Wooten announced today.
Loving (6-3, 306, Grand View University) joins the Iowa Barnstormers for his first season in the Indoor Football League (IFL). Collegiately, Loving began his career at Ellsworth Community College before transferring to Grand View University his junior year. While with the Vikings, Loving appeared in 22 total games and earned AFCA NAIA All-America Team Honors. "Watching Demarvious on film, I was impressed by the way he finishes blocks," said Coach Wooten.
"He has great feet and dominated his opponents. He brings another strong, athletic, focused piece to the most important position group on the field."
Season Tickets for the Iowa Barnstormers 2019 season are available now! For as low as $80 per seat, fans can enjoy the action from the same great seat location each game. For more information, call the Barnstormers at (515) 633-2255 or log on to www.theiowabarnstormers.com.
###