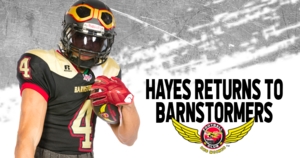 Hayes Returns to Barnstormers
Iowa Barnstormers Re-sign DB Rocky Hayes
DES MOINES – The Iowa Barnstormers have re-signed defensive back Rocky Hayes to the 2019 roster, Head Coach Dixie Wooten announced today.
Hayes (6-0, 190, Arkansas State) returns to the Iowa Barnstormers for his second season with the team. In 2018, Hayes appeared in 14 regular season game with the Barnstormers where he collected 53 total tackles, four pass breakups, three fumble recoveries, and one interception. Hayes also contributed in the post-season, appearing in both the United Conference Playoff and United Bowl Championship victories.
Prior to joining the IFL, Hayes played collegiately at Arkansas State University for four years. Hayes began his collegiate career in 2012 as a running back, where he finished the season as the team's second leading rusher and contributed to the two longest runs of the year (73 yards and 57 yards). After his freshman year, Hayes switched to defense racking up several conference honors as a cornerback. In 2013, Hayes earned honors as Second Team All-Conference, Phil Steele's Midseason First Team, Lindy's Preseason First Team, and was also named Lindy's "Best Athlete" in the Sun Belt Conference. In 2014, Hayes earned honors as First Team All-Conference and was voted Lindy's "Best Cover Corner" in the Sun Belt Conference.
"Rocky brought a very smart athletic player to the secondary last season," said Coach Wooten. "He improved each game, especially when it came to disgusing coverages. I expect him to come to camp hungry and ready to compete."
Season Tickets for the Iowa Barnstormers 2019 season are available now! For as low as $80 per seat, fans can enjoy the action from the same great seat location each game. For more information, call the Barnstormers at (515) 633-2255 or log on to www.theiowabarnstormers.com.
###