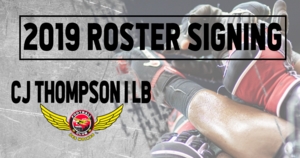 Barnstormers Sign Linebacker
Iowa Barnstormers Sign LB CJ Thompson
DES MOINES – The Iowa Barnstormers have signed linebacker CJ Thompson to the 2019 roster, Head Coach Dixie Wooten announced today.
Thompson (5-11, 230, Wilmington College) joins the Iowa Barnstormers for his first season in the Indoor Football League (IFL). Collegiately, Thompson played at linebacker and strong safety for Wilmington College in Ohio for three years. During his time with the Quakers, Thompson racked up 181 total tackles, 2.5 sacks, 19 tackles for loss, one forced fumble, one interception, and one touchdown.
"When watching CJ on film his instincts caught my attention," said Coach Wooten. "The way he read his keys, how physical he is, and how he plays sideline to sideline. He's another high IQ and non-stop motor on an already talented defense."
Season Tickets for the Iowa Barnstormers 2019 season are available now! For as low as $80 per seat, fans can enjoy the action from the same great seat location each game. For more information, call the Barnstormers at (515) 633-2255 or log on to www.theiowabarnstormers.com.
###