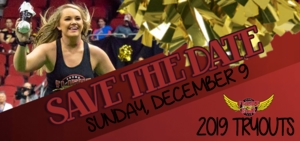 Flight Line Promo Team Gears Up for 2019
DES MOINES – The Iowa Barnstormers are pleased to announce the return of the Flight Line Promo Team for the 2019 season.
The Flight Line Promo Team is an extension of the Storm Chasers Dance Team. The Flight Line appears at all Barnstormers home games to cheer on the team with a focus on all in-game and on-field activities and promotions. New this season, the Flight Line will be picking up the poms to occasionally join the Storm Chasers in sideline routines.
"This is another way to get the Flight Line involved in the game day atmosphere," said Juli Pettit, Sales and Marketing Manager of the Iowa Barnstormers. "The purpose of this team is to interact with the fans, keep the energy upbeat, and overall have fun."
In addition to game days, the Flight Line will also represent the Iowa Barnstormers in the community at several events throughout the season.
Girls who are interested in joining the Flight Line Promo Team can circle December 9 on their calendars. The Iowa Barnstormers will be hosting a joint Flight Line and Storm Chasers Tryout. Details about the tryout will be available in the coming weeks.
"A joint tryout gives us the opportunity to really build the comradery between both teams right from the start," said Juli. "This also allows for girls who are trying out to show interest in both teams."
For the Flight Line, the tryout will consist of learning and performing a sideline pom cheer and participating in a brief interview. Those who are also interested in trying out for the Storm Chasers will be able to stay to learn the dance choreography, while those who are only interested in the Flight Line are free to leave.
So what does it take to be a member of the Flight Line? Energy, enthusiasm, and excitement.
"We are looking for girls who are outgoing, confident, and committed to the team," said Juli. "We want this to be a fun and positive experience for everyone involved."
The 2019 Flight Line Tryout will be held on Sunday, December 9 at the Wellmark YMCA in downtown Des Moines. In addition to the Flight Line, this tryout will also host participants interested in joining the 2019 Storm Chasers Dance Team. Full details will be available online at www.theiowabarnstormers.com in the coming weeks.
###