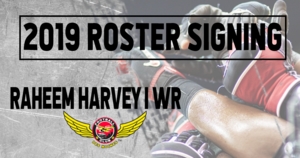 Harvey Returns to Barnstormers
WR Raheem Harvey Re-Signs with Barnstormers for 2019
DES MOINES – The Iowa Barnstormers have re-signed wide receiver Raheem Harvey to the 2019 roster, Head Coach Dixie Wooten announced today.
Harvey (6-2, 205, Lewis-Clark Valley) returns to the Iowa Barnstormers for his second season with the team. Harvey first joined the Barnstormers in late May of 2018, appearing in three regular season games. Harvey also appeared with the team in the post-season, contributing to the Barnstormers' United Conference Championship and United Bowl Championship victories.
Collegiately, Harvey played at Fort Scott Community College in Kansas for two seasons before transferring to Lewis-Clark Valley in 2017. In one season with the Loggers, Harvey collected 48 receptions, 10 touchdowns, and two 2 point conversions.
"I want Raheem to come in to camp showing what he learned from last year," said Coach Wooten. "He came in to the season late, but he knows what it takes to win that Championship. I want him to pick up right where he left off."
Season Tickets for the Iowa Barnstormers 2019 season are available now! For as low as $80 per seat, fans can enjoy the action from the same great seat location each game. For more information, call the Barnstormers at (515) 633-2255 or log on to www.theiowabarnstormers.com.
###