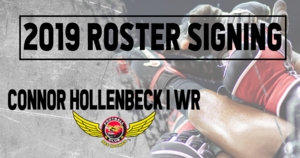 Barnstormers Kickoff Free Agency with Standout Receiver
WR Connor Hollenbeck Joins Barnstormers 2019 Roster
DES MOINES – The Iowa Barnstormers have signed wide receiver Connor Hollenbeck to the 2019 roster, Head Coach Dixie Wooten announced today.
The Iowa Barnstormers acquired Hollenbeck who was previously with the Cedar Rapids Titans when the IFL's free agency opened on Monday, October 1.
Hollenbeck (6-6, 225, Edinboro University) joins the Iowa Barnstormers for his third season in the Indoor Football League (IFL). Hollenbeck spent his first two seasons with the Cedar Rapids Titans, newly re-named the Cedar Rapids River Kings, where he appeared in a total of 28 games collecting 101 receptions and 25 touchdowns. At the end of the 2018 season, Hollenbeck was named Second Team All-IFL Receiver.
Collegiately, Hollenbeck spent played four years at Edinboro University appearing at both wide receiver and punter. Hollenbeck completed his collegiate career with 33 receptions for 330 yards and one touchdown.
"Signing Connor is huge for us, he's a big target that has a lot of knowledge for the game," said Coach Wooten. "We are all about surrounding our quarterback with weapons and we just got another weapon to go with the other weapons."
Season Tickets for the 2019 Iowa Barnstormers season are available now! For as low as $80 per seat, fans can enjoy the action from the same great seat location each game. For more information, call the Barnstormers at (515) 633-2255 or log on to www.theiowabarnstormers.com.
###