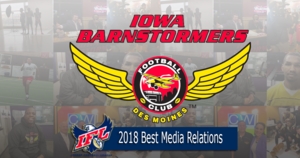 Barnstormers Earn Best Media Relations
Barnstormers Earn IFL Honors
DES MOINES – The Iowa Barnstormers earned the Team Award in Best Media Relations for the 2018 season, the League announced.
The Iowa Barnstormers have been named Best Media Relations in the IFL for the 2018 season. The Barnstormers earned the designation based on their media involvement, press releases, game notes, articles, media guides, and overall content.
"I am honored and humbled to receive this recognition from the Indoor Football League," said Juli Pettit, Media Relations Coordinator. "This award was earned by our entire organization who work tirelessly to put an excellent product both on and off the field. We are excited to be gaining recognition from not only our local media, but the league as a whole."
Other awards earned throughout the league include Best Fan Base, Best Game Operations, Best Mascot, and more. A full list of awards and winners can be found below.
2018 IFL Team Awards
Franchise of the Year: Arizona Rattlers
Executive of the Year: Ryan Hopson (Director of Sales) – Green Bay Blizzard
Best Fan Base: Arizona Rattlers
Best Game Operations: Sioux Falls Storm
Best Cheerleader/Dance Team: Sioux Falls Storm
Community Relations Award: Green Bay Blizzard
Hospitality Award: Arizona Rattlers
Best Social Media: Nebraska Danger
Best Mascot: Nebraska Danger
###