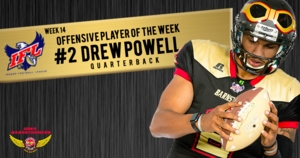 Powell Earns IFL Honors
QB Drew Powell Earns Player of the Week Honors
DES MOINES - Iowa Barnstormers quarterback Drew Powell was named the Indoor Football League's Offensive Player of the Week for Week 14, the League announced today.
Powell (6'3, 220, Livingstone College) earned IFL Offensive Player of the Week Honors for the second week in a row after a dominating performance against the Green Bay Blizzard in week 14. Powell completed 14 of 24 passes for 154 yards and three touchdowns in Iowa's victory. The dual-threat QB also broke 100 yards rushing, totaling 107 yards and three touchdowns on 20 attempts. Powell now leads the IFL in rushing yards with 699 and is second in rushing touchdowns with 18.
This is the third time Powell has been named Offensive Player of the Week this season, earning honors in week 1 and week 13.
The Indoor Football League awarded linebacker Robert Metz of the Green Bay Blizzard with Defensive Player of the Week, while kicker Brad Hatfield of the Nebraska Danger earned Special Teams Player of the Week. Powell and the Barnstormers return home on Saturday, June 2 to face off against the Arizona Rattlers in a battle for the first place seed. Kickoff is scheduled for 7:05pm. Contact the Iowa Barnstormers front office for tickets at 515-633-2255.
The Iowa Barnstormers are honoring and celebrating police, fire, and EMT's in First Responders Night on Saturday, June 2. The game will feature a pre-game Motorcycle Ride and Tailgate presented by Harley Davidson Big Barn. For more information or tickets to the event, call 515-633-2255.
###