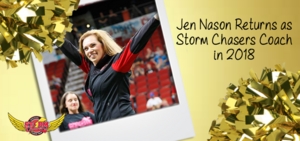 Storm Chasers Gear Up for 2018 Season
Jen Nason to Return as Storm Chasers Coach
DES MOINES – The Iowa Barnstormers are excited to announce that Jen Nason will be returning as the Storm Chasers Dance Team Coach in 2018.
Jen Nason returns to the Storm Chasers for her second season as coach. No stranger to the world of dance, Jen joined the Barnstormers organization with an extensive background in dance and choreography. In addition to running her own studio for seven years, Jen has experience in coaching cheerleading, tumbling, and yoga.
Jen's passion for entertainment helped the Barnstormers take the Storm Chasers in a new direction under her leadership last season and she looks forward to continuing to build on her vision this year.
"I'm looking forward to the continual collaboration with our marketing coordinator, Juli Pettit, in taking the team to the next level," said Nason. "We have built a strong foundation of centering the organization around family-fun entertainment while entertaining our fans and supporting our beloved Barnstormers."
With her return, Jen plans to continue to work with Juli to build up the Storm Chasers program to be positive and fulfilling for young women who are interested in dance and community involvement.
"Returning makes it incredibly rewarding to represent a team you believe whole heartedly in and that will carry over to this new season," said Nason. "My entire life has centered around mentoring, choreographing, performing, and projecting positive energy to all around me. I'm definitely bringing that energy."
Jen's positive outlook and infectious spirit has made her an important asset to the evolving Storm Chasers. With the 2018 Iowa Barnstormers season right around the corner, Jen is ready to find a charismatic group of performers to take the field every game.
"I'm looking for charisma, personality, and attitude. Significant dance experience is not at the top of the list," said Nason when asked about what she will be looking for at the Storm Chasers open tryout. "My goal for the Storm Chasers is to form lifelong friendships, to share and support the connection of our fans to our players, and most of all to be that positive energy."
Girls who are interested in trying out for the 2018 Storm Chasers can circle Sunday, December 3 on their calendars. Details about the open tryout will be available in the coming weeks.
Coach Jen provided some insight as to what the tryout will entail, including learning a choreographed routine and participating in an interview segment. For participants to prepare for the open tryout, Coach Jen stressed the importance of good health and wellness.
"Preparing for the tryout would be daily. Self-care with their fitness and dietary program," said Nason. "Our season is filled with many performances that are high-energy on and off the risers. Cardio and hydration are a must."
Most importantly, Coach Jen highlighted having fun. "We are looking for those who are wanting to be part of a fun, non-competitive dance team who aspire to give positive energy to all."
Her advice for tryout hopefuls: "Live in the moment, live in the present, it's your time to sparkle!"
The 2018 Storm Chasers Tryout will be held on Sunday, December 3. Full details will be available online at www.theiowabarnstormers.com in the coming weeks.
###