Roster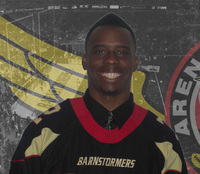 Khalil Carter
#2
Position:
WR
Height:
6' 1"
Weight:
190 lbs
College Experience:
University of Arkansas
Biography:
Carter signed with the Barnstormers as a free agent. This will be his first year with the Barnstormers and eighth in arena football.
2008
: Signed with the CFL Montreal Alouettes and in four regular season games finished second on the team in interceptions (2) and first in defensive touchdowns (1). Played in the 96th Grey Cup and recorded eight tackles which placed him third all-time in Grey Cup single game history. Attended training camp with the AFL Kansas City Brigade and played in two preseason games recording two interceptions before a season ending shoulder injury. Also attended training camp with CFL Toronto Argonauts and recorded three tackles one pass breakup and one interception in a preseason game. Signed with AFL Orlando Predators and played in playoff game where he recorded six tackles, one pass breakup, one forced fumble, and one interception. Named af2 number two on the all time Defensive Back as a defensive specialist for teh Arkansas Twisters. Named to the Arkansas Twisters All-Decade Team.
2007
: Signed with the CFL Toronto Argonauts where he dressed for 18 games and recorded 34 tackles, three interceptions and two defensive touchdowns. Had his #9 jersey retired by the Arkansas Twisters in the af2.
2006
: Signed with the AFL Nashville Kats and in five games recorded 34.5 tackles, one fumble recovery and one interception. Was a pre-season all-arena selection for the Nashville Katz. Then signed with AFL Orlando Predators and finished the season with three receptions for 21 yds and two touchdowns along with 44.5 tackles and one interception. Named ADT Defensive Player of the Week on February 28 after posting 11 tackles, two pass breakups and an interception. Again Named Defensive Player of the week during the Conference Championships after posting two interceptions with one for a touchdown. Participated in ArenaBowl XX and set record for longest touchdown run in championship history with 36 yds. Also played for CFL Toronto Argonauts playing in 12 games and recorded a career high 31 tackles and five interceptions for one touchdown. Third on all time Toronto Argonauts list for interception yds with 184 and consecutive games with an interception (3 games)
2005
: Signed with the AFL Nashville Kats and recorded one catch for five yds, one forced fumble and one fumble recovery. Was listed second on the team with tackles (70) and first on the team along with second in the league in interceptions (7) and pass breakups (15). Named to Second Team All-Arena. Also played for CFL Toronto Argonauts where he recorded three tackles.
2004
: Participated in NFL Buffalo Bills Training Camp before sustaining season ending injury. Played in NFL Europe for the Scottish Claymore and recorded 28 tackles, four pass breakups, two fumble recoveries and a blocked field goal while captaining one of the stingiest secondaries in NFL Europe History.
2003
: Started season on AFL Tampa Bay Storm's roster, but later signed with af2 Arkansas Twisters where he was later named af2 Defensive Player of the Year. Set af2 league record with 14 interceptions. Also recorded five catches for 58 yds and one touchdown, two additional touchdowns scored from the 14 interceptions, 63.5 tackles, and 45 pass breakups.
2002
: Signed with AFL Toronto Phantoms and finished the season with 10 receptions for 119 yds and one touchdown along with 17 tackles and one fumble recovery.
2001
: Started rookie season with AFL Milwaukee Mustangs and recorded 35 catches for 365 yds and six touchdowns along with 24 tackles, one forced fumble, two fumble recoveries, and two interceptions. Also saw time at quarterback and completed four of four passes and two touchdowns. Named teams Rookie of the Year and as a reserve on the AFL all-Rookie Team.
2000
: Signed with af2 Arkansas Twisters and was rotated between quarterback, wide receiver, defensive back and linebacker and became first player in team history to be signed to a professional contract (AFL). Completed 16-25 passes for 201 yds and six touchdowns along with catching 10 receptions for 165 yds and five touchdowns and recording 25 tackle, two interceptions and 11 pass breakups.
1998
: Finished his senior year of college at Southern Arkansas where he recorded a special teams high six tackles and three punt returns for 32 yds. 1994-1997: Played college ball at the University of Arkansas and originally started as a quarterback, but was later converted to a wide receiver. Graduated from Arkansas in 2000 with a Bachelors Degree in Psychology and was a founding member of the ABH chapter of PHI BETA SIGMA International Fraternity Inc.
Nicknames
: Champ
Hobbies
: Weight lifting, poetry, rapping, athletic trainer
Favorite TV Show
: CSI
Favorite Musical Group
: Wu Tang
Favorite Food
: Chicken spaghetti or catfish
Least Favorite Food
: Seafood
Favorite Sports Team
: Dallas Cowboys
Favorite sport besides football
: Basketball
My greatest football hero is
: Jim Brown
Biggest influence/role model
: Jesus Christ
My pregame ritual is
: Pineapples and the five heartbeats move
My most prized possession
: My af2 Defensive Player of the Year Award
My other talent besides football
: Martial Arts Taekwondo
If I could meet anyone it would be
: Jay Z
I'm most excited to be a Barnstormer because
: Its an honor to work with John Gregory and JT Smith
The best thing about living in Iowa
: The fans of the Barnstormers.
2010 Game Stats
Defense
| | | | | | | | | |
| --- | --- | --- | --- | --- | --- | --- | --- | --- |
| GP | TT | UT | AT | TFL | YDS | FR | SACK | INT |
| 16 | 85 | 71 | 14 | 1 | 1 | 3 | 0 | 5 |