Roster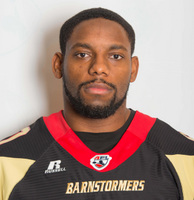 Rodney Gnat
#23
Position:
DL
Height:
6' 3"
Weight:
253 lbs
College Experience:
Louisville
Biography:
Gnat (6-3, 253) joined the Barnstormers last season as a rookie following 4 years at the University of Louisville. In 44 career games, he recorded 55 tackles and 11.5 sacks. Gnat had a breakout season as a senior in 2010, collecting 28 tackles and 8.5 sacks. He was named Big East player of the week following a 4.5 sack performance against Eastern Kentucky. A native of Jacksonville, Gnat was a three year starter and letter winner at Wolfson High School.
Last y ear with Iowa, Gnat appeared in 16 games, recording 17 tackles, including 7 for a loss and a team high 5 sacks. He was named a team captain by Hohensee immediately following training camp for his intensity on the field along with his outstanding leadership skills.

Hobbies: Coaching, listening to music
Favorite TV Show: Sons of Anarchy
Favorite Musical Group: Wu-Tang
Favorite Food: Pizza
Least Favorite Food: Liver
Favorite Sports Team: Louisville
Favorite Athlete: My brother, Stanely Gnat
When I first met Coach Hohensee, I thought: Thank you for another chance to play
Greatest football moment so far: Orange Bowl win in 2006
Childhood football hero: Reggie White
Pregame Ritual: Hot shower, warm-up, call my brother
Most prized possession: cell phone
Other talent besides football: I can play baseball
If I could meet anyone, it would be: John Madden
Best thing about living in Iowa: People are great!
2013 Game Statistics

Defense

| | | | | | | |
| --- | --- | --- | --- | --- | --- | --- |
| GP | Tackles | Sacks | INT | BRKUP | FF | FR |
| 8 | 10.0 | 1.5 | 0 | 4 | 0 | 1 |
2012 Game Statistics

Defense
| | | | | | | |
| --- | --- | --- | --- | --- | --- | --- |
| GP | Tackles | Sacks | INT | BRKUP | FF | FR |
| 16 | 17.0 | 5.0 | 0 | 3 | 2 | 0 |