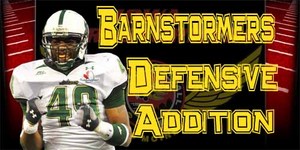 DES MOINES – Iowa Barnstormers Head Coach and Director of Football Operations John Gregory announced this morning that the Arena Football league franchise has reached agreement with Chris Robinson from the University of South Florida. Robinson split time between Defensive End and Linebacker during his college career and he looks to upgrade the Barnstormers pass rush as he joins the AFL for his rookie season.
Robinson (6-3, 235) played in 49 career games from 2005-09 with South Florida, the fourth most in team history. During his senior season in 2009, Robinson played in every game and recorded 55 tackles including 9 for a loss, 6 pass break-ups, 5 forced fumbles and one fumble recovery, all while leading his team to a birth in the International Bowl. He also tallied 9.5 career sacks including 7 in 2006 when he finished second on the team.
Robinson will be among a group of 35 players that report to the Barnstormers training camp this February to compete for a spot with the club. The 2011 Arena Football League season kicks off in March, with the schedule to be announced in the coming weeks. Don't forget that 2011 Iowa Barnstormers season tickets remain on sale for as low as $117.00 per seat! Call 515-633-2255 or visit www.theiowabarnstormers.com for more information.