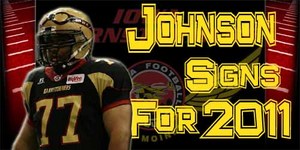 DES MOINES –
Iowa Barnstormers Head Coach and Director of Football Operations John Gregory announced this morning that the Arena Football league franchise has reached agreement with Defensive Tackle Charles Johnson. The three year veteran from Northern Iowa returns for a fourth season with the Barnstormers.
Johnson (6-2, 330) has started every game for the Barnstormers at Defensive Tackle the past three seasons. In 2010, Johnson spent his first year in the AFL recording 19 tackles (four for loss) and a forced fumble. He had his best season statistically in 2009, when he compiled 19 tackles (9 for loss) and 8 sacks. He also spent time playing Offensive Line in goal-line situations and at Fullback where he rushed for 7 yards and 2 Touchdowns.
"I'm very excited to be back with the Barnstormers for the 2011 season", said Johnson. "I think we're going to surprise some people this season and I can't wait to play in front of the AFL's best fans this spring".
Johnson will be among a group of 35 players that report to the Barnstormers training camp this February to compete for a spot with the club. The 2011 Arena Football League season kicks off in March, with the schedule to be announced in the coming weeks. Don't forget that 2011 Iowa Barnstormers season tickets remain on sale for as low as $117.00 per seat! Call 515-633-2255 or visit www.theiowabarnstormers.com for more information.