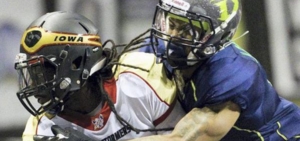 Iowa Barnstormers Downed by Nebraska Danger
Barnstormers Defeated 76-50
Des Moines, IA – The Iowa Barnstormers (1-3) were defeated 76-50 by the Nebraska Danger (4-0) Friday evening at the Heartland Events Center in Grand Island, Nebraska.
The Iowa Barnstormers stepped off the bus ready to play on Friday night versus the Nebraska Danger. Scoring twenty-six points in the first quarter, the Barnstormers set the bar high for their undefeated opponent. Quarterback Robbie Nallenweg and receivers were in sync and the Iowa defense made their mark on the scoreboard with a fumble return by defensive back TJ Simmons.
In the second, quarterback Jameel Sewell and the Nebraska offense took control of the game scoring thirty-five points. One of the League's top linebackers, Pig Brown tallied a 15-yard interception return keeping the Danger's momentum high through halftime.
Iowa's Nallenweg completed 29 of 51 attempts while collecting 328 yards, four touchdowns including one taken on the ground. A night heavily influenced by turnovers, Nallenweg's four interceptions were taken advantage of by the experienced Nebraska team.
Coming out of the locker room, the scoreboard displayed the Danger's thirteen point lead. After exchanging touchdowns, Danger defensive back Harcourt Farquharson minimalized the Iowa possession with an interception. Capitalizing on the opportunity, Nebraska scored the final points of the quarter.
A pair of touchdowns by the Barnstormers offense wouldn't be enough to overcome the margin before the final buzzer. Nebraska Danger 76, Iowa Barnstormers 50.
Leading the receiving team for the Barnstormers, both Daron Clark and Lemans Casimier tallied over 85 yards each with a collective three touchdowns. Defensively, the Barnstormers were led by defensive back Javicz Jones who collected nine total tackles.
###