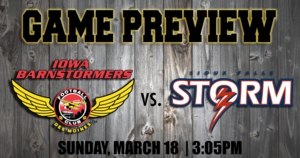 Game Preview: Iowa Barnstormers @ Bemidji Axemen
Iowa Travels to Bemidji for First-Ever Meeting
DES MOINES – The Iowa Barnstormers (0-1) travel to the home of the Bemidji Axemen (0-1) on Monday, March 16. Kickoff is set for 6:35 p.m. CDT at the Sanford Center in Bemidji, Minnesota. The game will be available live online via IFLLive.tv.
Prior to a Week #2 bye, the Iowa Barnstormers headed to Cedar Rapids for their inaugural Indoor Football game. The Barnstormers were first to score with a fumble recovery by DB T.J. Simmons. The Titan offense was quick to answer and continued their momentum to a 24-point second quarter. After a scoreless third quarter for the Barnstormers, QB Robbie Nallenweg connected with WR Brady Roland with :55 left of the game clock. The last-minute effort wasn't enough to bring the "Iowa Bowl" trophy to the Barnstormers. Iowa Barnstormers 20, Cedar Rapids Titans 51.
Nallenweg completed 18 of 31 passing attempts for 158 yards and one touchdown. Wide receivers Lemans Casimier and Brady Roland tallied seven receptions each. Defensive back Alex Sewall snagged one interception for nine yards.
The Bemidji Axemen faced-off against the reigning United Bowl Champion Sioux Falls Storm in their season opener. In a slow first-half, the Axemen fell 12-38. The Axemen came out with vengeance in the third, scoring 12 points in the quarter with the help of a fumble recovery. Early in the fourth, QB EJ White connected with WR Josh Jarboe for a quick six points. Bemidji was able to put two more scores on the board, but it wasn't enough to hold off the experienced Sioux Falls team. Sioux Falls Storm 66, Bemidji Axemen 42.
Monday's matchup will be the first-ever meeting between the Iowa Barnstormers and the Bemidji Axemen. Both teams will be competing for their first win of the 2015 season and meet up with familiar faces. Barnstormers WR DeJay Lester spent time in Bemidji early in 2014. Familiar to the Barnstormers is DL Rony Nelson who played in Iowa in 2013. The Axemen and Barnstormers will meet once more this season with a game on Saturday, June 6 at Wells Fargo Arena.
The Iowa Barnstormers return to Des Moines for their home opener on April 11th! Celebrating "Date Night" at Wells Fargo Arena, the Barnstormers are offering the perfect ticket package for two! For $50, fans will receive two tickets, two beers, and two hot dogs. This package is valued at $68.00.