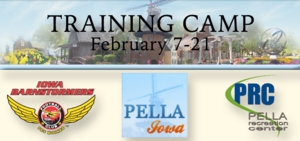 Barnstormers Set for Training Camp
Practice Begins Saturday, February 7
DES MOINES – The Iowa Barnstormers 2015 Training Camp officially kicks off this Friday, February 6 in Pella, Iowa when 40 players from around the country will work to earn a spot on the Barnstormers team roster.
Training Camp practices begin Saturday, February 7 at the Pella Recreation Center Field House. Practices will be held daily and are open to the public and media. In place of practice, the team will hold an inter-squad scrimmage on Saturday, February 14 at 10:00 a.m. The team's full practice schedule is available below.
The Iowa Barnstormers 2015 Training Camp roster features talented athletes from around the country. Most recently, Head Coach Joe Brannen has added Brady Roland and Kelvin Gilkey (DB) of Grand View University and Alex Gonzalez (OL) of Upper Iowa University. Sean Daniels (DL) and Parker Rentz (OL) have also been signed. For the complete Training Camp roster, visit www.theiowabarnstormers.com. In addition to practices, the Barnstormers will engage in several community events within the Pella area. For more information about these community events, reference the Iowa Barnstormers official website or Facebook page.
Season tickets are on sale for the Iowa Barnstormers 2015 season starting as low as $77 per seat. Season tickets are the perfect gift for the football fan in your family. Don't miss a minute of the action this season! For more information, call the Barnstormers at (515) 633-2255 or log onto www.theiowabarnstormers.com.
2015 Iowa Barnstormers Training Camp Practice Schedule
Week 1:
| | | |
| --- | --- | --- |
| Day/Date | Location | Time |
| Saturday, February 7th | Pella Rec Center | 8:00am-12:00pm |
| Sunday, February 8th | Pella Rec Center | 8:00am-12:00pm |
| Monday, February 9th | Pella Rec Center | 8:00am-12:00pm |
| Tuesday, February 10th | Pella Rec Center | 8:00am-12:00pm |
| Wednesday, February 11th | Pella Rec Center | 8:00am-12:00pm |
| Thursday, February 12th | Pella Rec Center | 8:00am-12:00pm |
| Friday, February 13th | Pella Rec Center | 8:00am-12:00pm |
| Saturday, February 14th | Pella Rec Center | Scrimmage 10:00am |
Week 2:
| | | |
| --- | --- | --- |
| Day/Date | Location | Time |
| Sunday, February 15th | OFF | --------- |
| Monday, February 16th | Pella Rec Center | 7:30am-10:00am |
| Tuesday, February 17th | Pella Rec Center | 7:30am-10:00am |
| Wednesday, February 18th | Pella Rec Center | 7:30am-10:00am |
| Thursday, February 19th | Pella Rec Center | 7:30am-10:00am |
| Friday, February 20th | Pella Rec Center | 7:30am-10:00am |
| Saturday, February 21st | Pella Rec Center | 7:30am-10:00am |
###