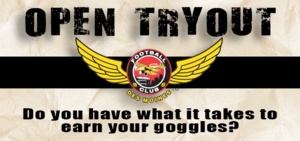 Barnstormers Announce 2014 Open Tryouts
Open Tryouts Scheduled for November 1 in Pella, Iowa
DES MOINES – The Iowa Barnstormers of the Indoor Football League (IFL) will host their annual open tryout on November 1, 2014 at the Pella Recreation Center Field House in Pella, Iowa. The tryout is open to any athlete 18 years of age and older who is non-college eligible and interested in playing professional indoor football.
The Iowa Barnstormers Open Tryout, consisting of combine workouts, skill drills, one-on-one and four-on-four competitions, will be held under the direction of Head Coach and Director of Player Personnel Joe Brannen and his staff. Tryout positions include quarterback, wide receiver, defensive back, fullback, running back, linebacker, offensive lineman, and defensive lineman.
Registration will open on November 1 at 8:00 a.m. with the tryouts beginning promptly at 9:00 a.m. All tryout participants will be required to submit a registration payment and sign a waiver and release form. Pre-registration will cost $50 with day-of registration fees increasing to $60 per participant.
Registration forms can be found online and printed from the Iowa Barnstormers website or by clicking HERE.
The Iowa Barnstormers Open Tryout will be open to the public for interested spectators.
Season tickets are on sale for the Iowa Barnstormers 2015 season starting as low as $77 per seat. Season tickets are the perfect gift for the football fan in your family. Don't miss a minute of the action this season! For more information, call the Barnstormers at (515) 633-2255 or log onto www.theiowabarnstormers.com.
###