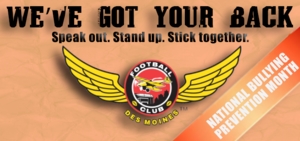 October is National Bullying Prevention Month. Last season, the Iowa Barnstormers launched the We've Got Your Back Campaign. We've Got Your Back is an anti-bullying campaign designed to prevent bullying both inside and outside of schools. This program teaches students to speak out, stand up, and stick together against bullying.
The Iowa Barnstormers coaching staff and players have been trained by Character Counts using Excellence and Ethics Tools to speak on the subject of bullying. Through this program, members of our organization speak to schools about the dangers of bullying and how to stop it. Coaches and players share personal stories about bullying, from the stand point of being bullied and also being the bully, and share how their personal experience has affected their life.
This campaign is very important to the Iowa Barnstormers organization and with the help of Atlantic Bottling Company, Powerade, and MidAmerican Energy we were able to launch it. We hope to bring this message to several schools throughout the 2014-2015 school year.
If you are interested in having the We've Got Your Back campaign brought to your school, please contact julipettit@theiowabarnstormers.com or simply fill out THIS FORM.
For more information about the campaign, you can call 515-633-2255 to speak with Juli or CLICK HERE.