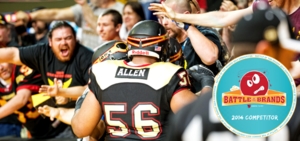 Iowa Barnstormers Nominated Best Brand
Vote Iowa Barnstormers Best Brand in Iowa
The Iowa Barnstormers have been selected to participate in the 5th Annual Lessing-Flynn Battle of the Brands. The Iowa Barnstormers have been selected to compete against 63 Iowa brands in the Battle of the Brands contest hosted by Lessing-Flynn.
The contest entails an NCAA tournament-style bracket which will include six single elimination rounds. The Brand Champion will receive $5,000 in marketing support to be donated to a charitable organization of its choice.
The first round of Battle of the Brands pits the Iowa Barnstormers against the Iowa Wild and ends Thursday, August, 14th at 5:00 p.m.
To vote the Iowa Barnstormers the 2014 Brand Champion of Iowa click HERE!
###